By: Sandra May 4, 2020
Sugar Babies Share Their Success Stories
It's no secret that money moves the world, but what are we willing to do to live a luxurious life? Or simply meet end need without a problem? Well, this is a need that many young women face, the same need that leads them to become a Sugar Baby (SB) an increasingly rising phenomenon. There are many websites dedicated to Sugar Dating that report having millions of users, more than 20 million to say for the most used application in this area.
Such is the case of a 22-year-old Mexican Sugar Baby named María Fernanda with an extensive track record in Sugar Baby / Sugar Daddy relationships who tells us some of her reasons for joining the Sugar World and shares her experiences with the Sugar Community.
"I have always been attracted to mature men and if they were mature and wealthy, they attracted me a lot more".
"When I started college, I began to notice that the expenses were exceeding me and it was difficult for my parents and I to pay for everything. So, I decided to look for a part-time job but the salaries were very low; it was then that my friend started talking to me about all these websites where I could find a Sugar Daddy to help me cover most or all of my college expenses and that is how I became a Sugar Baby. The idea of dating older men did not displease me at all, just the fact of thinking about it got me real excited. My first date was with a 45-year-old lawyer named Felipe, he took me out for a delicious dinner carried on by a nice chat, we had a fun night, the chemistry between us was immediate and in case you where wondering, no, we didn't have sex … at least not that night nor on the following 4 dates. Even though, he offered to give me cash and proposed that we continued to see each other occasionally; we always met at really nice places (laughs) we truly shared nice moments"
What Maria Fernanda considers economic stability, it's seen by many others as modern prostitution or an escort service, but Maria Fernanda does not agree with these labels.
"I am not an escort or a prostitute, being a sugar baby represents a commercial contract with our sugar daddies, it is something very discreet that involves two people, therefore the contracts are usually arranged through the internet, where you have your sugar baby profile and this profile could be completely detached to your regular profile if you decide, discretion is always good for both parties."
Is there a trick when it comes to finding a sugar daddy? -I wouldn't call it a trick because a sugar daddy clearly knows what he likes and what he is looking for but never the less, I would still suggest that you take care of yourself, try to look good all the time, exercise, be flirty with your makeup and it may be a plus if you have a sweet sexy appearance, for instance I look younger than I really am and that tends to attract them, that is a recurring fantasy for sugar daddies, I know it because they've told me so. They are not looking for a prostitute, they are looking for normal girls who are beautiful and intelligent; another plus is attitude, they like cheerful, jovial girls who enjoy life-.
Becoming a sugar baby for Maria Fernanda was an easy exchange to understand and she doesn't rule out 100% of the "and they lived happily ever after" story, although she is not tied up to that idea, she stays open to the possibilities of life because you don't know what it holds ahead. But it is better to think of it as something temporary, because it generally is.
"Since I started dating my sugar daddies, I have always had a mindset that it'll be temporary, that it is something that will end at some point because there is a lot of competition in this world and sugar daddies are outnumbered by sugar babies. Just think about it for a minute, men are not only going to be with one sugar baby and I don't believe they are in it to fall in love, it's better to enjoy the benefits while it lasts and when it's over, let it be without a problem, just find another one, it's that easy!"
But let's talk about how real the benefits are for just providing your company, it's hard to believe that these mature and successful men are willing to provide all these luxuries and fulfill whims in exchange for just company, so the question is; how often do you have sex? This type of agreement is essential.
"Sex is a physiological need and that is undeniable, but that does not make it mandatory. I have dated at least 6 men whom I have not had sex with, I only do it with who I want and what I get for it varies according to the arrangement we make. I can tell you that I've traveled to different places in the country the best one was a trip to Cancun; I've also been to very fancy restaurants and I can pay my college expenses without a problem. If we talk about figures I can tell you that I normally receive $5,000 to $8,000 pesos for spending a weekend or taking a trip with my sugar daddy and this doesn't include the gifts that he gives me, such as expensive perfumes, dresses and many other things".
According to Maria Fernanda a college student can receive an average $5,000 to $8,000 pesos for sharing their time and sometimes their body with her sugar daddy. This is certainly a lot more that she would receive at a part-time job and she knows the risks this practice implies but she assures that she will continue to do it at least until she completes her college studies and her economic situation improves to the point where she can live a comfortable life.
 "I know there are risks but I don't think they are much different to the risks we are exposed to on a daily basis, whether on the internet or when we met up with friends for a drink on Fridays, it's good to be cautious and pay attention to our sixth sense that tells us when something is wrong, but come on! This is a business and all businesses involve some risk". (Maria Fernanda smiles as she says that last part)."
My Debut as a Sugar Baby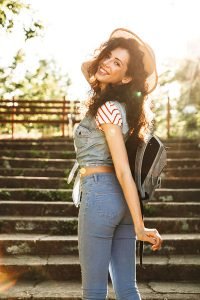 Every time you hear the term sugar baby, what is the first thing that comes to mind? -Aleida: An attractive college student who does not have enough money to pay her tuition... that's the classic! But no, I was not that girl because I had my parents support and they fully paid for everything related to my education, what led me to look for a sugar daddy was the ambition and the illusion to think that there was a man my age or much older, willing to pay me to spend time with him; a man willing to be my daddy and who would fulfill all my whims, because although my economic situation was not tight, I did not enjoy great luxuries and at age 23 what you want is to live new experiences and enjoy to the fullest.
About a day or two after creating the account and receiving some messages from Sugar Daddies showing their interest, I found a man named Benjamin and up to that point he was the best prospect I had found, I found him to be very attractive from the photos he had on his profile; I knew that he was 38 years old of American nationality and that he had quit his job to dedicate himself to travel the world, he had already been to Italy, Spain, Panama, Colombia and his next destination was Mexico and of course, he was looking for a pretty girl with whom to share good moments with during his stay. That was my opportunity right there, in front of me, there was only one problem, I was nerve wrecked since I had zero experience.
The expected day finally came and there I was on a plane with my Sugar Daddy whom I had just met a couple days ago and I honestly remember praying like I never did before, I asked God to please keep me safe. We finally landed at the airport in Mérida, Yucatán, Mexico and this is where I officially became a sugar baby. Benjamin was very courteous with me and the trip started great, our first hotel was very nice but the reservation only included one room so Benjamin and I would have to sleep together and I assumed that these types of agreements are very likely to include sex, because to be honest if a sugar daddy pays for everything and treats you like a queen, they'll want to be rewarded for it at some point.
Benjamin was very handsome and there was a very strong attraction between us so I got carried away and I decided to be a great sugar baby, with all that it implies. We did it in an impressive way and this didn't change during the entire trip, he spoiled me a lot and it seemed to me that he was delighted with his new sugar baby. We toured through the state of Yucatan and got to see the Mayan ruins and we ended up in Tulum, Quintana Roo, we spend the last 2 nights there and it was the perfect end to our trip. We spend the days at the beach club drinking cocktails and in the afternoon, we had dinner at a spectacular Lebanese food restaurant. Of course, throughout the trip I was posting incredible pictures on Instagram that I bet caused the envy of many of my acquaintances who were miles away wondering how I'd gone on a vacation to the Caribbean in the beginning of the semester.
"At the end of the trip, I received $8,000 pesos cash as a gift from my sugar daddy who I continued to see for approximately 3 more months since that was the time that Benjamin stayed in my city, he was taking classes to improve his Spanish and he left after that; now we only talk sporadically. Benjamin was my debut as a sugar baby".
Love Is Not Part of the Arrangement
"My name is Ximena and my life is not very different to any other girl's, I am 24 years old, I studied nutrition and I like to go out to dance with my friends on the weekends and I like to go out shopping as well, as you can see nothing out of the ordinary, if it wasn't for the fact that a little over a year ago I became a sugar baby to a 49-year-old man and unlike many sugar babies I didn't turn into sugar dating for gifts or cash, I did it because I was at a point in my life where I wanted to feel "loved" and desired by someone. It had been 2 years approximately since my last relationship with a guy from school and things didn't go well and that is what brought me to a sugar dating site, so far, I've tried to come to an agreement with 3 different men, I let them know that I would like to receive gifts, get dinner and cash but that it was most important to me to find someone who I felt a connection with. I knew that it wouldn't be like having a conventional boyfriend but coming close was necessary; then I found a sugar daddy, I didn't like the idea very much because he is a married man and there was no way he could be seen in public with another girl. The second sugar daddy stood me up at a bar on one of our dates, he disappeared and I never heard from him again.
But as they say, the third is the charm, and that's how it happened. Rafael was a man who had a company dedicated to construction, he had an impressive class; he was polite, well educated, fun and he made me feel very special, he was a free man, he'd never been married and didn't have a girlfriend. I was in disbelief about having found my dream sugar daddy, not only because he was so handsome but he was always aware of my financial needs and he liked to give me gifts very often, from lingerie, perfumes, to romantic dinners or weekends at home where there would be no one else the two of us. But since nothing lasts forever this dream relationship didn't either, we are still together but the intensity of our dates has begun to diminish, I suppose it's because Rafael is such an independent man and he is used to being alone and after a while our relationship had turned monotone, I think that for him a bit boring even, this would explain why he was on a sugar dating website to begin with. This experience with Rafael made me reflection on whether love could be possible in these types of relationships and I believe that you can hold a loving relationship that doesn't depend on receiving economic benefits or gifts, but being with the person just for the sole desire to be with them and nothing else. But perhaps Rafael is not the right man to test this theory with after all, he seems to be very pleased in his sugar baby's world, I will continue to be with him in the meantime until one of the two decides otherwise.
I already had a taste of how sweet it's been to become a sugar baby and I am convinced that I love being pampered and loved, so I won't be going back to traditional relationships at least for a while. I also learned that I have to be more cautious to not fall in love right away with my sugar daddy, I have to enjoy the good moments that he gives me and keep in mind my role of a sugar baby, and that a sugar daddy is here for a reason and the most normal thing in this world is to expect it to be temporary. So, let's both enjoy!"
If you have questions or comments, please contact us .