By: Cassidy February 16, 2021
What is a Sugar Momma?
Sugar Momma meaning
There are several variations of the word all with the same meaning. A Sugar Mama is the female form of the Sugar Daddy phenomenon. Just as a Sugar Daddy, Sugar Mommas are wealthy mature people who provide financial support, stability, mentorship, pampering, and or general payment and allowances to younger people for their time and companionship.
Among the variations of the word used to refer to the female version who is the provider in the relationship are; Sugar Momma, Sugar Mama, Sugar Mami, Sugar Mummy and Sugar Mum. The pronunciation and spelling vary by country and region, but they are all used for the same reference.
Sugar Mommas are often confused for "cougars", but they are not the same. Cougars are also older women, typically 30 to 50 years old who are looking for sexual encounters with younger men often called their cubs. A Sugar Momma is much more than that, these are women looking for arrangements with younger men or women, referred to as their Sugar Baby, to share their time and experiences with, in exchange they provide gifts, meals at top of the notch restaurants, getaways and pocket money or allowances, sex is not always present and when it does happen, it is on mutual agreement.
Origin of Sugar Terms
The term Sugar is a slang often used to modify "sweeten" something and as an alternative for money.
The Original term of Sugar Mama came from a candy produced in 1965 by the James O. Welch Company, it was a companion to the Sugar Daddy, and Sugar Babies. A Sugar Mama was a chocolate-covered caramel sucker, basically a Sugar Daddy covered in chocolate. It has not been produced since the 80's.
The first known expression of the term Sugar Daddy goes back to the 19th century, this was a nickname given to a magnate by his wife, 24 years younger than him Adolph Spreckels who ran a sugar company.
Sugar Mama is now used as a modified version of the original phrase 'Sugar Daddy", it was changed to fit a woman who does the same thing for the company of a Sugar Baby. The conservative nature of the world for several decades made it sort of a taboo, it wasn't until the late 60's that the culture of Sugar Dating truly gained a foothold in the American stage. This period saw a different kind of culture emerge, the women's liberation movement freed women from oppression and male supremacy, as a result, women became more shameless with their relationships and it is no surprise that the rate of divorce grew sharply.
While Sugar Daddies have always been a thing, general acceptance of these type of arrangements have just recently become more accepted publicly, less so to speak of Sugar Mommas. Regardless, the Sugar Mama term spread thanks to the rise of older women paying for the love of younger men. Sugar Mommas have embedded into popular culture thanks to the contribution of music, there are several songs named after these generous, mature, loving females who don't mind being the provider in the relationship. It is now becoming more common to find younger men seeking a wealthy mature woman to set an arrangement with, and mommas who are looking for a younger, attractive man with whom she can have a good time.
Difference between Sugar Baby and Sugar Momma
Sugar Babies are young male and females between the ages of 18-30 years old who are seeking to be supported and or pampered by an older wealthier male or female who would be the Sugar Daddy or Sugar Momma.
Sugar Babies are usually between part-time jobs and college and on the struggle to pay for tuition, rent, bills and day to day expenses. Sugar Mommies are a ladder that makes their way through college a lot easier as these Mommas are usually women who have achieved great success in their careers and are enjoying the benefits of their hard work and efforts. Sugar Mommas are typically 40-69 years old, they could be single, married and looking for an adventure, or currently going through a divorce and need an escape, whatever the case may be, we can assure you that Sugar Mommies have a lot more to offer than meals at pricey restaurants and financial support.
These successful women put less emphasis on money, they have gone through a lot to get to where they are and throughout these experiences, they have found the best version of themselves, they know what they want, and they don't have a problem going after it. They are loving, caring and passionate and they want to feel loved and desired. They've learned to appreciate their singleness and most of them have no time or interest in a full-time relationship. Paying a Sugar Baby is their way of showing they appreciate you.
A big plus is that their age and experience make them great lovers. Yes babies, these Mommas are hot in bed and let's say it, dating a hot mature woman is a fantasy of many young boys growing up. They are more open to try new things and have reached an incredible point of sexiness that they are not afraid to share with you. Without a doubt they have a lot to teach their Sugar Babies without the ties and all the drama that come in adjunction with a traditional relationship.
So, where can you find a Sugar Momma?
Dating has surely come a far way! Online dating has now become the new modernity when just a decade ago, people where embarrassed to admit that they met their partner online. When looking at numbers, it is not quite easy to find specific data that relates the number of Sugar Mommas for each Sugar Baby as they are not very flashy, they are rather more reserved and conservative. This is partly due because even though we are in the mist of the 21st century, there's still a lot of public judgement towards these types of public encounters. But we found that according to an AARP survey of 3,500 older singles, 34% of women in the 40-to-69 age group date younger men, and 14% of women age 50 to 59 say they prefer dating men in their 40s or younger.
The modality of online dating brought a lot of websites that offer to set up encounters for Sugar Mommas and Sugar Babies. Most of these websites let you select the age range, city, and specs of the type of Sugar you are looking for and the best thing yet, it is free for Sugar Babies to sign up! Online dating tends to be most secure, as you can create your profile from the comfort of your home and in just a click of a button, you select who could be your perfect match.
There has been a drastic rise on the number of searches for Sugar Mommas worldwide. For instance, Boston ranked No. 1 as it was the most popular for Sugar Mommas in the whole country, in Mexico, Monterrey has the most Sugar Mami's, which is no surprise as it is also on top of the list for being the No. 1 wealthier state in Mexico. While in Latin America, Chile has several websites dedicated to "Sugaring", this is also the most developed country of its dependencies.
As you can see Sugar Mami's, Sugar Mama's, Sugar Mommy's, Sugar Momma's, Sugar Mummy's, Sugar Mom's, whatever denotation you prefer, are out there! These are busy women that have a high-end lifestyle, in addition to the many websites dedicated to help you find the perfect arrangement, here's some tips on where you can find a Sugar Momma locally. 
Luxury Hotels and Spas: these women enjoy the high life and usually stay at fancy hotels, be on the lookout at the lobby and spa areas.
Fancy Restaurants: you might be lucky to find your Sugar Momma having lunch or dinner at an elegant restaurant.
Bars and Lounges: avoid the loud bars and raves, these mature women enjoy a glass of their favorite wine or mixed drink at a nice and quiet place.
The Beach: this is another good place to be on the lookout, you may come across your Sugar Momma as you go on a stroll or jog, or maybe while you enjoy the sunset.
Gym: another common trait of these women is their discipline; they usually have a healthy lifestyle and visit the gym regularly.
Here's a final hint, wealthy successful people hate wasting time, you can make things easier by helping them optimize the search, knowing what you want and what it is you are looking for is the key when looking for an arrangement. Keep last part in mind while on your search and I'm sure you'll find your perfect match in no time; you can come back and thank me later (wink).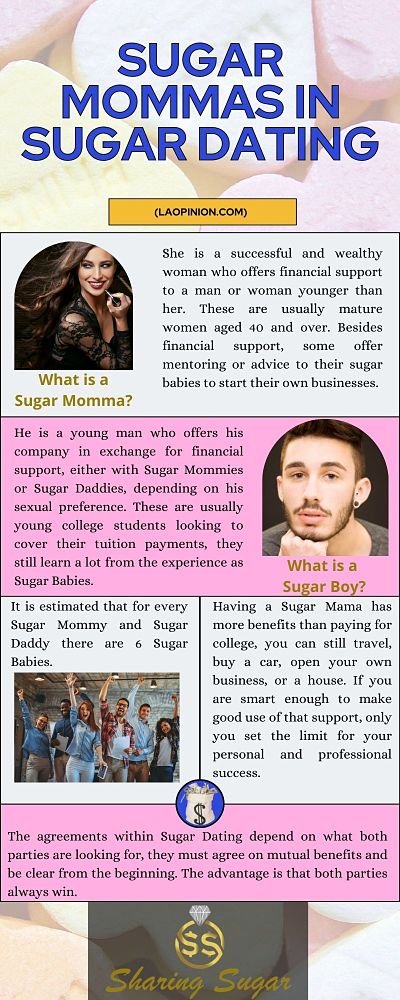 If you enjoyed this read, you might also find this interesting: I AM NOW A SUGAR MOMMY