By: Sandra April 9, 2020
In Search Of Fun: From San Diego To Tijuana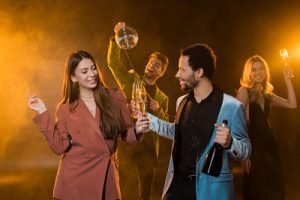 You've probably heard about "Sugar Dating" and it's impossible to not bring up Sugar Daddies, Mommas and Babies. This has become a novel trend in love relationships but it goes beyond that, it is a new way to obtain benefits bilaterally in a love relationship.
It's more common to hear about Sugar Daddies, they are the wealthy men looking for the company of a young women who is beautiful, and intelligent, both benefit in the same way: he provides benefits her, economical mostly, and she (Sugar Baby) provides her company. 
There are currently many means to establish these relationships, Internet applications allow people to connect and reach those agreements that they are looking for, this does not rule out the possibility of meeting someone in person for the first time instead of resorting to an application.
A good option for those looking to start a fun Sugar Relationship could be to register on the Sharing Sugar website and find that person in an attractive city like Tijuana. This location adjoins with San Diego, California and has a great inflow of American tourism, therefore there's a lot of places of common interest.
What If The Ideal Person Is In Tijuana Or Surroundings?
In 2017 the New York Times named Tijuana the 8th tourist site to visit, and this is because this city is positioned in a privileged geographical space, on one hand you have the accessibility to go to the United States through any of its sentry lanes, you require a passport or visa to do this.
On the other hand, you can find places of interest for many tourists nearby, such as Playas de Rosarito, Ensenada, Tecate, Valle de Guadalupe, etc. Just in the city itself you can find interest places where the young and not so young have fun to the sound of night music and clinking glasses.
With this, we just meant to give you an idea to venture out and find what you are looking for. Although internet apps work wonderfully at connecting people, it may also be that once you meet someone through those means, they arrange to meet at one of the places already mentioned.
Tijuana handles really high tourist figures; at the end of the first semester of 2019, the hotel sector registered an accumulated investment amount of 1,600 million pesos.
Sugar relationships are a lot more interesting when there's two nationalities combined, and we say this because in the city we are talking about today, it is quite common to see couples made up of American and Mexican.
Regarding the difference in ages, there are many myths that can easily be disbanded, they say that there are no ages for love, and that is true. Many people try to change the conventional model of a loving couple because what's been established for many years no longer works or never worked for them.
It should also be mentioned that a sugar relationship is not only an exchange for money and frivolous sex, and it is that sexual relations don't necessarily be sustained, nor is a cash payment necessary in exchange for company.
Because it's an older person, it is expected that they have life experience, and not only that but also, that these people are professionals who can advise a young woman in such case that she is in college studying a similar branch profession.
It is understood that the one that contributes the most in the relationship is the elderly and wealthy person, and it may be true if seen from a very limited point of view, because in reality, both people give of themselves in the relationship. And of course, each case is different, however, what must constantly be assured in these relationships is the wellbeing, both parties should feel happy with the agreement, and there should not be forced situations.
At  sharing sugar , we do not promote the mistreatment to any one, on the contrary, we intent to facilitate the tools to those who wish to find the ideal person and our only objective is to grow together with all those users who join our platform and give us the trust to try this process in our website.
We are located in Tijuana and we believe that the possibility to unite sugar babies and sugar daddies in this city is convenient and interesting, and we wish to make it possible through our website for you to find someone and meet in one of the magical attractions worthy of adventurous and hedonistic spirits.
We hope that you find this information useful, whether you are a mature man looking for a young beautiful woman, if you are American, come to Tijuana, you never know if that special girl is here, and if you are a beautiful girl and you are looking for a sugar daddy, you will surely find him on the streets of Tijuana or through our website.
Going out and exploring the world around us will never be a waste, on the contrary, bet on surprise or intrigue, it's very possible that, that person will walk into your life sooner than later and you will start the love story that you are looking for.