By: Valeria Sugar April 8, 2020
Traveling The World Has Never Been So Easy
I Want to Know the World!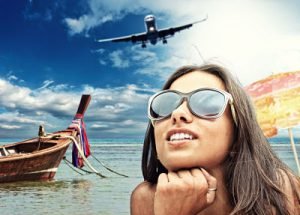 If you are Sugar Baby and you don't know what the hell to do with the allowance you receive from your sweet Daddy, stay with me, I have a wonderful idea for you that you may put into practice very soon, one of many ideas, today I want to invite you to know the world.
As a Sugar Baby, what you will have left over is money and good experiences, so if you are already on track in this environment, but you don't know which direction to take, don't worry, the first thing you should do is have a sponsor, that is, a Sugar Daddy.
The second thing you must do is have a plan, clear ideas, what do you want to achieve from this relationship?
At some point in our lives, we have all dreamed of knowing the world, knowing new horizons and above all, living unforgettable moments in each of those new horizons and this seemed impossible, until recently.
To our luck, we are in a time when dreams can come true, as millennials we have that "I don't know what", which can be hideously adorable and contagious. We are the generation that wants to eat the whole world in a snap.
Yes, it is true that we are the generation of dreamers. We vibrate with the energy of novelty, Sugary Relationships are possibly our best invention, I may not be wrong.
Yes, I know, you are going to tell me: Sugary Relationships are nothing new; and you're right, they are not, but it was in this era that the term you already know was given, we already stereotype this type of relationship and whether you like it or not, it is as if it had emerged in this era of "millennials".
Whether Y
ou Are
S
ugar
B
aby By Necessity Or O
ut of P
leasure That Does Not Matter
I still remember the adults of my childhood, talking about how difficult it was to get out of the hole, talking about dreams that they would never achieve, they made me believe that life was boring, complicated, and exceedingly difficult, that if you were born fucked you would stay that way for the rest of your life and that there was nothing else for you in this "cruel" world. And for a while, I believed it all.
Fortunately, I managed to get out of "the cave" at 23 years old. Surely you have found yourself in the same situation, for what has caught your attention to read us today, I don't know, maybe you felt identified or maybe it's simple curiosity, which is it?
First, let me tell you something of the utmost importance, nothing they have told you is 100% true, since each person perceives life in a different way, so each person has their own reality, ok?
Once you understand that, you will be freeing yourself from one of the greatest ties of your life. And once you are a bird freed from the cage, free at last, only then can you be the master of your own destiny, the journey is just beginning and get ready because the best is yet to come!
Whether you are a Sugar Baby out of necessity or pleasure that doesn't matter, the important thing is that you manage to get the best possible benefit and that your reasons for being so are carried out, each one of them, that you achieve your own goals regarding that relationship.
The opportunity to see the world is undoubtedly one of the best characteristics of Sugary Relationships
Today you can get an idea, after that introduction, if it was not your case, I congratulate you, you are part of that 1% of the population that did not suffer closely from the frustrations of adults and you have very surely led a very relaxed and full life, you have not had to go through the mud to get to the beautiful beach that covers your feet with crystal clear water.
But if you are from that other percentage, like me, who had to learn to be happy on their own, I think you deserve a vacation from everything, and leaving aside the bad, focusing on how positive a Sugar Relationship can be, with its many benefits, what do you think if we plan a tour? Next destination… fun? Where?
There are hundreds of tourist destinations that you can contemplate either with that special man and sponsor of yours, or by yourself or with friends, I don't know, that will be your decision.
Here Are Some Destinations That May Be of Interest F
or
You.
The city of Bucharest, in Romania, is one of the cities to the east of the European continent, it is a strategically located city in which you can easily move around Romania, an incredibly beautiful city with a lot of history and places of common interest (contemplate that Bucharest does not handle the euro).
It is an inexpensive city, full of many beautiful gardens all around, and as a curious fact, if you are passionate about vampires, you will not be able to miss the opportunity to visit Dracula's castle, you will find day tours that leave from Bucharest or you can go on your own, since it's close to the place.
Also, the departure from Bucharest airport to any other side is quite easy, without complications, very fluently. In Bucharest you spend about $ 28 per day.
Malaysia, an unbelievably beautiful country located in Southeast Asia, between Thailand and Singapore, starting with its capital Kuala Lumpur, where you will find many shopping centers and exotic beaches that will make you feel that you belong to that place, they are not crowded beaches, you can allow yourself to forget about the rest of the world on these paradisiacal beaches, mobility in the country is quite good.
In Malaysia, you cannot miss out on visiting Penang Island much less miss the opportunity to visit Georgetown, which is considered the capital of street art in the world, on the streets you will find different and varied artistic samples so you will feel walking in a beautiful and a colorful open-air museum, not to mention the natural beauties of the island.
A trip of this type opens the doors and frees you from the boring routine of everyday life.
Spain is another tourist destination par excellence with its incredible beaches and monuments, if you decide to visit this place an unmissable stop is the masterpiece of the artist Gaudi, the temple of the La Sagrada Familia located in the heart of Barcelona.
In Madrid you can enjoy its wonderful architecture, take a walk along La Gran Via, which is the best-known street in Madrid, right in the heart of Madrid is the main square and a few meters you will find the Puerta del Sol, if you like museums, you will love the Prado Museum and the Queen Sofia Museum. To enjoy a crazy nightlife, sunbathe and relax Ibiza will always be a good option.
In the Baltic countries, (Estonia, Latvia, and Lithuania), you will feel in a fairy tale, you will be amazed with such beauty that seems out of a Disney movie, with capitals full of beautiful landscapes, and considered as some of the cheapest in Europe.
These three countries are small, it will seem you are in the same country, so moving around will be a laughing matter. Get to know three countries in one trip. You can even move around by a cruise.
Portugal has a perfect climate, where you can give yourself the opportunity to enjoy its beaches and coastal views, as well as if you are a surf lover, the architecture will steal your view because it has beautiful buildings, without a doubt one of the best destinations. Delicious food and assorted wine.
Poland is a beautiful European country that has 14 world heritage sites, so you can have many places of interest to make your stay unforgettable and something you want to share with your acquaintances. Visit forests or castles, what do you think?
Being a
S
ugar
B
aby Has Many Benefits, But You Create the Opportunities Yourself
India is one of the most famous tourist destinations in Asia, and with good reason, it is a perfect destination for lovers of new adventures, you will find both economic options; if you have a good budget, you can afford to travel first class on the railroad tours, or with a little budget you can live the adventure on the surface, but no less interesting and fun. If you go on an austerity plan, you can spend around $ 17 a day.
But now, we cannot leave aside the tourist destinations in America, if on your first trip abroad you do not want to jump too far from the nest, don't worry, here I leave you other options near the terroir. Where you will surely feel at home and you can let yourself be enveloped by the natural beauties that the American continent has for you.
Canada, undoubtedly a destination that you must visit at least once in your life, among the wide variety of attractions for tourists are: Niagara Falls without a doubt an impressive natural spectacle, Banff Park is a destination that enchants locals and strangers with its spectacular landscapes. Canada is also well known for Northern Lights sightings, some of the best places to spot them are Churchill, Aurora Village near Yellowknife to name a few.
United States, one of the most visited countries in the world, with endless activities, live a crazy night in the city of sin "The Fabulous Vegas" or have a dream day meeting your favorite characters from Disney stories, find the best brands in Los Angeles one of the fashion capitals, whatever you are looking for in this country you will surely find it.
He can give you the means, but you are the one who chooses what to do with it.
Peru, a destination in Latin America that you cannot miss, the whole country is fascinating for its natural wealth and historical destinations, in the south of this beautiful country you will find the typical ruins of
Machu Picchu that are unmissable, Lake Titicaca or Copacabana. It is preferable that you make your reservations in advance when traveling by plane, to avoid having a bad time.
Brazil has so much to offer that I will only mention some of its main tourist destinations, Rio de Janeiro, a place of paradisiacal beaches, a wide range of bars, restaurants and surrounded by many natural wonders.
If your thing is to practice snorkeling, Buzios offers you majestic crystalline beaches. Brasilia in the center of the country and its capital, declared a cultural heritage of humanity, is one of the most important destinations and a must-see.
Happy
S
ugar
B
aby Trip!
For any trip try to save at least $ 30,000 to $ 50,000 Mexican pesos, to pay for flights and of course, you will need money on hand. Now you have some ideas of the tourist destinations that you can consider for your next Sugar Adventure, whether you go with that generous man or go alone, go ahead and break the schemes.
Be part of that group of girls who are currently profiting and making smart use of those benefits at the expense of a wealthy mature man. Because finally what you will have at the end of your days are only good experiences, there is no more.
Traveling is a long-term investment, you can find adventures and that is the best part, but beyond that, there is the knowledge of the things you do not know, the maturity of life and, above all, learning experience, because each trip represents one more learning.
A trip enriches your soul and changes you completely. Of course, you do deserve abundance! Now what do you say, let's pack our bags?