By: Valeria Sugar April 8, 2020
If You're A Millennial, You Should Read This
Would You Consider Becoming a Sugar Baby?
If you are a millennial or a recent adult of generation Z, this article is for you, today I want to talk about a topic that is of your particular interest, it is about your economy.
It is possible that you have already considered improving it or maintaining a basic economic status for your month to month needs, but if this is not your case, at the beginning it may sound like you are reading a horror story, but at the end, you may find this proposal interesting, fun and you may even decide to carry it out in practice, and who knows, with some luck, hopefully you will find the path you were looking for.
You may have already heard about the monetary statistics for us young people, and I don't want to sound pessimistic, but they are not very promising or hopeful.
We are supposed to be living in a modern age where technology and consumerism are our daily bread; modern cell phones, brand clothes, or any other occurrence that suits us to look according to the affluent and demanding social stereotype. If this is your vibe, you should know that maintaining these tastes is not cheap and money is essential.
People who were born between 1981 and 1999, will know that the economic situation is complicated, the moment of independence arrives, and who has not dreamed of obtaining it, to be finally free from the scolding and pressure of their parents. But oh surprise! "So, nobody ever told us how it was going to be baby."
Paying rent, tuition, services, food, and the pleasures you want to give yourself, you barely make it with a part-time job, in case of studying in the public school system, but if you study online or private school, you may have more opportunities for a higher paying job, it is still not enough!
The economic crisis we are currently going through began in 2008, perplexing more than one graduate who fantasized about the peak of business success.
This leaves us young people with much to think about, because the current salaries are not enough to meet all the needs, you almost live by the day, and add to this the slow development in job creation, and the increase in prices in Real estate, we have basically no money left for retirement savings.
And it is believed that we won't recover from this crisis until after our retirement, that means, we have a lot to worry about at this rate! We need more culture on financial savings, we are blind to the money aspect. Help!
The difference between Millennials and Generation Z to Baby boomers is abysmal in terms of economy because the latter are the richest generation, they secured their savings and financial stability until 2030.
It is very possible that they'll be the ones who help us get out of the economic crisis that was basically left to us as a legacy, because if you think about it from this point of view, it was their responsibility to educate and guide their offspring, but instead look at what we have, the thing turned out a bit permissive and now the broken dishes are being paid.
Or it may not be entirely their fault, also depressing and nefarious governments have plunged us into the hole. I will sound more than frivolous when I say that the inheritance of the boomers will help more than one millennial to get out of the financial crisis.
You thought that living alone represented the maximum on your scale of personal goals, but you suddenly realize that you have just entered the new slavery, because as aforementioned, money is what, whether you like it or not, will give you the life status you desire.
Without the money just resign yourself to going back to your parents' house, but this sounds horrible, there is no way you can allow yourself to take a step back. By any chance, have you heard of the term Sugar Baby?
A Sugar Baby is a usually young person, who offers their company to a wealthy person in exchange for economic benefits, it is not prostitution, although the media has tried to defame and denigrate this concept of modern romance, it is not like prostitution, because you are not being paid for the sexual act or for your specific time, on the contrary.
It is an agreement in which both people involved decide, voluntarily, to share their time and spend pleasant moments, and the wealthy person offers to pay your expenses, your school, or pleasures, or, he gives you a monthly monetary amount or, in each meeting that you carry out.
The agreements they reach will be different for each case, each relationship is unique, it will depend on the circumstances in which they have met, or on the needs of both parties.
And although it is not about sexual favors in exchange for money, it is quite common to see that, in most Sugary Relationships, sex is a particularly important participant. But let's not be puritans and hypocrites, as if you don't have casual sex!
It is much better to have a basic sexual partner to play it safe and avoid health risks, don't you think? Besides, I am almost sure that this person will know how to treat you very well and you will even learn a lot from their experience.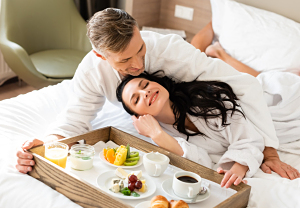 This wealthy person is called, Sugar Daddy, in case he is a man and in case she is a woman, she is called Sugar Momma / Mommy.
They are people who generally have little opportunity to go out and find partners and they opt to reach agreements of this type to satisfy their companionship and sexual needs, but discarding the possibility of something more serious, since they are usually more focused on making money and in their busy lives that, in leading a formal romance, which would involve investing time that they do not have.
And of course, the superficial side of beauty, why deny it, these wealthy people want to share their time with young and beautiful people and if they must pay for it with gifts and money, they are very willing to do so.
If you are considering an alternative spin on your monetary income, getting a sponsor of this style could give you a break from your worries, it could be very flattering for you, and by the way, you have fun in the process.
More and more young people dare to try this type of affective relationships that provide them "easy" money and, for the most part, these are positive experiences; You satisfy an important aspect that is of concern, because money is "sacred", you don't play with it, and if there is a person who is willing to compensate you financially in exchange for simply giving them your time, how cool!
If you think about it, you are being paid for your own satisfaction and happiness, how complicated can it be? The answer is: nothing complicated.
If the above did not finish convincing you to try an improvement to your monetary income, here I leave you other hard facts, hang on!
1. We are in debt up to our eyeballs: 56% of millennials in Mexico end the month with $ 0.0 pesos. This indicates that as the salary is received, it is spent almost immediately, they live by the day. Zero savings!
2. Jobs offer depressing salaries: more than 900,000 young people between the ages of 20 and 35 are unemployed, and only 66% of this group have secondary and higher education. And as if this were not enough, only 13% earn over 12,000 pesos per month, and the sad minority of 4.4% receive a monthly salary higher than that.
3. If you dream of a home of your own, good luck with it: the alarming figure of 66% of young people said they would like to buy a house, but unfortunately the salary is not enough, they need to make more money to achieve it, and since the job offers are many, but poorly paid, it is a personal project that must be postponed to a long term, a veeeeery long term, by the way.
4. Saving for retirement, no joke: 61% of young people have not even thought about this possibility, there is truly little financial education in our youth society.
There are many options that you can give yourself to the task of exploring to try to reach your financial goal for each month, there are many aspects that you must consider to remove this global burden that affects most of us, waiting for our grandparents or parents to inherit their fortune, if there is one, is something bizarre, don't you think?
Besides that, it would be a long wait and if you are not an only child or grandchild, you must see what portion of the cake you will get. Let's face it if you're sexually active, or have occasional affairs, make the most of it!
Some of the Success Stories After
Finding
a
S
ugar
D
addy or
M
ommy Are on the Internet
Here I will leave you some samples that will possibly give you a clearer picture of how much money you could receive being Sugar Baby:
* Kayla Morris: dropped out of school at 17 and decided to be with a 50-year-old man as her Sugar Daddy, who gives her around $ 1,000 dollars a week, the equivalent of $ 18,000 Mexican pesos.
* Lara: a 27-year-old British girl, who has been with about 10 Sugar Daddies on a famous website that specializes in this type of dating, $ 1,300 dollars a month, the equivalent of almost 24,000 pesos. And she constantly shows off her money and the gifts she receives from her Sugar Daddy on her social networks.
* Celine: A color plus size girl originally from London decided to enter this Sugary World at 18 years old, she has had over 10 Sugar daddies since then, men over 50 years old. She has made over $ 127,130 dollars or the equivalent of $ 2,288,340 pesos.
* Nina Peterson: she was a single mother until she decided to venture as a Sugar Baby, and so far, she believes it was the best decision of her life, for her this is everything, she is a professional. She dedicates herself solely to this and when she has a Sugar Daddy, she gives them exclusivity. She has amassed around 1 million dollars, or the equivalent of $ 18,000,000 Mexican pesos.
They are just an example of how much you can earn by being Sugar Baby. It is about giving in quality time, you are not forced to do anything you do not want, but the better attitude you have, the better you will do. If you go online looking for information about this style of romances, you will find many data that show the same result repeatedly: the benefits as a Sugar Baby are various.
From the moment you decide to participate in an agreement of this nature, you will be able to notice the difference, you will begin to perceive more tranquility and to free yourself from stress and to a certain extent, you feel like an endorsement or support of an adult, older than you of course, and this will make you feel protected. And all you must do is be cute and kind to that special someone who will be pleased to keep you happy.
You do not know if tomorrow this decision will be the best investment of your life and will be the springboard you were looking for to achieve your personal goals faster. Consider that, if the estimate of the monthly salary of a young person in Mexico is currently 12,000 pesos, with good luck.
Subtract the payment of services to this money (electricity, water, internet, gas, food, etc.). Imagine that you can get more or that your SD / SM supports you with certain expenses or something similar, what you would be earning by just offering your nice and warm company. Ask yourself the following: Do I want to be a Sugar Baby?