By: Sandra July 9, 2020
When A Sugar Daddy Takes You On A Trip
Many Sugar Babies are afraid to travel with a Sugar Daddy because they are petrified that something bad will happen to them. It is important to take safe measures and not trust everyone, you should know the meaning of being cautious.
On another hand, if a Sugar Daddy offers you the opportunity to travel with him, you should take the time to investigate what he does for a living. Considering that he could be a drug lord or worse. You should note all the information of the person you'll be traveling with and discreetly share that information with a person of your trust.
If you feel insecure to travel with your Sugar Daddy for the first time, you may be able to come to an agreement and bring a companion (usually a friend of yours) and your Sugar Daddy must pay for both of your expenses.
Traveling is one of the best pleasures in life, once you start to travel the world you won't want to stop.
How Do I Travel Without Problems?
Keep in mind that if you are traveling for pleasure without monetary exchange, you should request that your Sugar Daddy pays for all the expenses, hotel, food, and fun. Don't allow your Sugar Daddy to stay in the room all day, be well informed of places to visit and enjoy, you're on trip!
Having said that, remember that just because he took you on a trip does not mean that you must pay him with sex 24/7, you must make that very clear. It's convenient to emphasize that long trips are not recommended as they can become tedious, a weeklong trip maximum is good, depending on the destination.
On another hand, if it is a trip entails monetary gratification, you must request an amount that is suitable for both. Also, when you are traveling to another country you should find out if you need a passport or visa and your Sugar Daddy should help with the costs of the procedure.
5 Tips When Traveling With
A
Sugar Daddy
Whether you can choose to travel or not will depend on the communication or relationship you have with the Sugar and how comfortable you are by his side. Also, it is important to take time to build a good relationship of trust. Here are 5 tips when traveling with a Sugar Daddy:
  1. Be the best companion. When traveling with your Sugar Daddy you want the experience to be as unforgettable for him as it will be for you. Try to look as beautiful as possible and be a good companion all the time. Rest well before your trip.
  2. Looks spectacular. If you want to look better, you should drink a lot of water and eat balanced especially if you want to wear a bikini. Schedule a spa treatment, it's a good idea to get a facial, manicure, and pedicure so that you can look your best for the trip.
  3. Prepare your suitcase well. Take what is necessary and make it as light as possible, avoid complications. The main idea of your trip is to be able to enjoy new experiences and relish the fun moments. Remember to bring your passport and any additional documents you need.
  4. Stay happy. It is important to keep your Sugar happy and as calm as possible. He should feel comfortable, show interest in him and respect.
  5. Safety first. Before you go on a trip, make a copy of the travel itinerary and give it to a trusted person, this way, someone will know your location and who you are with. This will make the trip safer, and you can enjoy the moment without worrying about anything.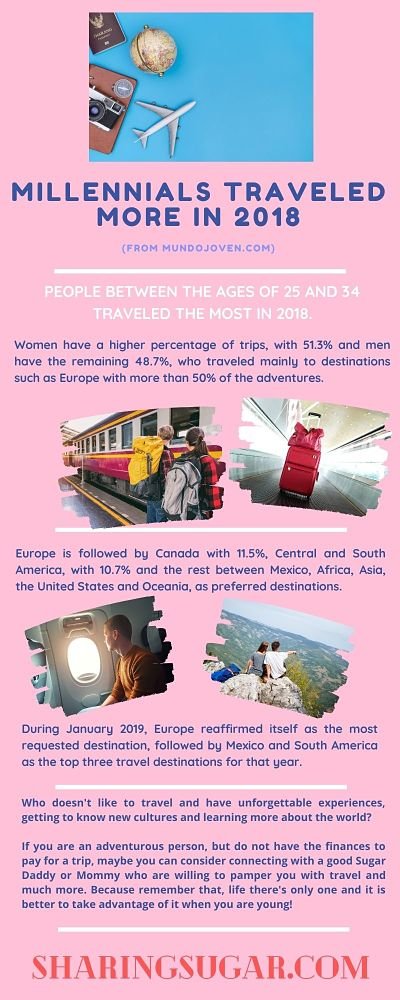 If you liked this article, we invite you to visit our blog, we have a diversity of content that may interest you.