By: Valeria Sugar April 8, 2020
Fantastic Story: Double Entry Sugar Daddy
There are life partners you don't expect to find, and when it happens, it's wonderful. In my Sugar Baby experience, I am with my soul mate, so far it is working wonderfully.
Being free from prejudice is difficult it's like being one in a million, I mean really being, because many people claim to be open minded and not judge others for their ideas just to sound "cool" and at the slightest act of rebellion or authenticity they are the first to cross themselves and criticize.
I have always been a very liberal girl, I was raised by two super unusual people, my parents are rockers, and I grew up with the mind of a tough girl, hedonism is a key part of my day to day.
I have plans for my life, and I believe that I have walked in the right direction along the way, I always try to accomplish the goals that I set for myself, and I have never been the dating type, until a year ago that I met the most special person.
I am currently 24 years old and I have been living with a girl for 6 months, but we have known each other for 1 year. I am bisexual, I couldn't say that I like only women or only men, I fall in love with the person, regardless of their gender. I am a hopeless romantic, it is my nature, although I seem like the coldest woman on the outside.
We met at a rock festival a year ago. Due to the beautiful coincidence of our meeting, I have come to think that fate conspires in your favor when you least expect it. "There's a lid for every pot."
We were lining up to go to the bathroom, and as you would expect at those events, it was an endless line. During the wait you cannot avoid interacting with people, especially when you are close to people who think like you and live music in the same way. It's like a great brotherhood.
There she was behind me, my beautiful and adorable Elena, she was going through her phone when a song that I really like, Kashmir by Led Zepellin, started playing. I couldn't help but make a comment: -Oh, good song". And she just smiled at me, didn't give in to start a chat, and that first meeting was reduced to a simple kind gesture.
It didn't go any further. Three more glasses of beer later she needed to pee again, what a chance. It was movie like, Elena was in the exact same position as the previous time, behind me. And we couldn't help but say hello, but this time there was a little more interaction.
Her voice and chat were so pleasant that I forgot the urge to pee, for a gap of several minutes. We shared some musical information, and we were surprised that we liked a lot of the same bands on songs. 
We said goodbye when it was my turn to pee; When I came out of the bathroom, I didn't see her and I assumed that she had already left, but my sight suddenly ran into that image of her, waiting for me further out front, away from the stinky smell of that public bathroom that was bursting with people.
I was happy to see her after a few minutes, I immediately felt a click when we had the second meeting, since she shared her likes and ideals, she seemed like the type of person I like to share my time with.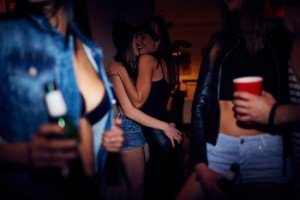 For an instant I thought that we could be good friends since we both lived in the same city, and it was a fact that we would go out for a walk and those friend things, but the twist of flirtation suddenly came to light. She took the first step.
Of course, I did not resist, she is incredibly beautiful physically and that little mind that she has makes her much better. So, we quickly went into action, it was crazy because we both entered a bathroom, not discreetly because there were many people, but that did not matter, and we kissed very passionately. We really didn't go any further, we are not so daring, we came out after a few minutes.
We returned to the event together and continued to enjoy that so energized night to the rhythm of our music. When the concert was over, we went to my apartment, had crazy sex and then a long sleepover talk. We had definitely clicked mutually.
She spent the night and the next morning we went to have breakfast together at a nearby place. We seemed like dear friends; it was as if we had known each other for a long time.
When it is time to say goodbye, we shared the necessary information to stay in touch and not lose contact. We were both single and had the freedom to make more of these encounters possible.
Elena lived with her parents, she was a house girl, well behaved and did not go out as often, but it was easy for her to go out with me every weekend, her parents noticed the change and did not fully approve of my friendship, they thought I was bad influence for her.
It became a religion to meet every Friday and spend the whole weekend together, she returned with her parents on Sunday night, to go to the university. I study the university in an open system, and I work as a FreeLancer, from the point of view of many I am lazy. But I have done well this way.
After six months of so many sporadic adventures, we were encouraged to live together permanently, and not just on weekends. Her parents do appreciate me now, should I say my in-laws?
I supported her at first, but she insisted on helping me with expenses, so she found a part-time job close to home, and ended up switching to open school system like me.
That way she could work overtime and support with more income. From the beginning of our union, we have managed to organize ourselves to make this relationship very equitable.
My Girl Turns Into
S
ugar
B
ab
y
In the afternoons we shared the anecdotes of the day, and in one of those talks she told me that a client of the cafeteria proposed her to be his Sugar Baby, it is a term that I do not ignore, because I have already lived that experience and when she told me that, I was amused, and without thinking I said: "do it."
She was surprised because it was a response that she did not expect from me, but as I had said previously, I am an open-minded person, stereotypes of love relationships come and go, it is not an aspect that takes my sleep.
She asked me if I was serious and I said yes that I had done that before and that it is a pleasant experience, you don't have to deal with the person every day besides our type of relationship allows us to be with a man without feeling anything for him. It is not merely infidelity.
At least, that's the way I see it. She thought about it for two minutes and got up from the couch, I noticed her a little annoyed by the comment I made, and I think she hoped that I would show my love for her with the absurd jealousy of a high school girl.
She used to believe in princess stories, and she had a wrong idea of ​​love, but she transcended those deep-rooted fantasies of society and learned quickly from my crazy mind, and a few days later she brought up the subject again.
She told me that the wealthy man had once again offered the proposal, but this time, she accepted, and I asked her for more details of the agreement, how they would handle this "Sugary Relationship".
Her and I also agreed on certain rules, about what would be allowed and what would not, because in the end, although I am a liberal person, there are also certain aspects such as privacy that I like to take care of, basically I told her to always use a condom in case of having sex with him.
She frequented her Sugar Daddy twice a week, during the week, because within our rules we established that the weekend would be for us.
Curiously, He is Now Both O
ur
S
ugar
D
add
y
. I'll Tell You How it Happened.
We have only been with him for 3 months, at first, he was with her for 1 month, seeing each other twice a week, and he would give her $ 5,000 pesos a week for those meetings, it was an extra income that suited us both.
In one of her outings with him, she told him about me, that we are a couple and have lived together for a few months, that there was no problem for me, I knew about the situation and they had no need to hide.
Well, the man was very rogue, since he came up with the great idea of ​​having a threesome with us, which doesn't surprise me, I think all men have that fantasy.
My Elena told me about the "unseemly" proposal, and I accepted, I thought it might even be fun. We left it for the following weekend after we had discussed it, we would arrive at his house together dressed in a miniskirt and high heels, he was very detailed about his fantasy.
When we arrived, this man was waiting for us with candles and a romantic dinner, in his luxurious apartment overlooking the sea, the atmosphere was very pleasant from the moment we arrived at the door. And it seemed like a good gesture of him to receive us that way.
He offered us a glass of Champagne and we chatted for a while during dinner, I did not feel nervous or uncomfortable at any time, on the contrary, I felt incredibly good with our companion and host.
We did not go directly to the action, first we chatted very pleasantly and spent some time on the balcony, letting the sea breeze gently caress us and play with our hair.
I couldn't help but passionately kiss my girl with all that romantic atmosphere and forgot for a moment that we had male company next to us.
I think that when I did this it was a good start for what was to come next, and the man as if by magic turned into a small animal.
He asked us to accompany him to his room, where, by the way, there were more candles and rose petals, an incredibly good entrance, I think all women enjoy these details.
He gave us both the same amount of money, 10,000 pesos in separate envelopes, for making his fantasy come true. I couldn't help but feel so ecstatic to receive that amount of money for basically having a sexual affair with my girl, it was nice, seriously.
When we got home, we were both so excited for having done this and we had another sexual encounter in our own privacy without companions, it is as if this situation made our mutual desire resurface and made us better lovers.
Now I understand when they say that swingers couples seek to enliven the relationship, give it a special touch, to keep the flame of passion alive, I can say that it is absolutely true.
We have been Sugar Baby's for 3 months; we are accomplices with this man who is complacent and generous with his money. We have both benefited, and to our fortune, we are both physically attractive, is it possible that we become professionals in this?
I dare to share our adventure because anonymity allows it, but besides from that I would like our experience to positively serve someone.
Many times, we deprive ourselves of the delights of life and good adventures just because of limiting stereotypes.
The fact of loving a person does not have to be a reason for prudent behavior. It is possible to enjoy with your partner and what better than to obtain a greater benefit from all that.
We continue to keep our jobs because we need all the money possible since we are planning a project together, a business of both, because we do not know how long we will have this person supporting us the way he is.
We plan to open a sex shop very soon; we believe that we perfectly fit the profile of the owners of a sex shop. We have a lot to share in this regard and we are two young entrepreneurs.
We are incredibly happy in our relationship (seasoned with the theme of being a Sugar Baby) the love between the two grows more and more and of course friendship. We are accomplices in everything, and I really don't see my life without her.
It is a bit bizarre that sharing the same Sugar Daddy is pushing us to achieve our plans more quickly. If you ask me, being a Sugar Baby can represent the opportunity of a lifetime, if you set your mind to it.
If you enjoyed this read, you might also find this interesting: A VERY, VERY BAD GIRL